I have finally caught up to my most recent project: a denim wrap skirt, from the "Miette" pattern by Tilly and the Buttons!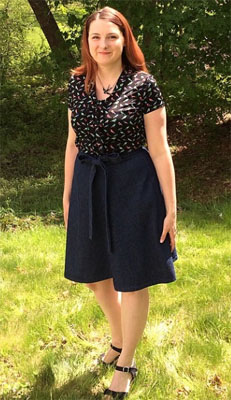 This was a totally unplanned project! My friend
Sarah
came over for a sewing date, and convinced me on a total whim to make this skirt. I went stash-diving and found some remnants of Kaufman 8 oz denim, and by the next day, I had a new skirt!
I did make a change to the waistband of the pattern, which is to cut it as much in one piece as I could. Instead of leaving an open seam, I'll make a large buttonhole to pass the tie through. This idea is absolutely stolen from Sarah. :) Also, I wanted to note that I needed less than the prescribed yardage, which was 2 1/4 yards. When I first bought my denim, I believe it was 2 1/2 yards. After cutting out a Beignet skirt (and that skirt has a LOT of pieces!) I had enough in remnants for the Miette (in a size 3). Of course, as I said, I got creative with piecing the waistband and ties, and I think I cut the waistband facing crosswise instead of lengthwise. If I buy for another, I'd just buy 2 yards, and that will be more than enough.
I think this might be one of my new favorite patterns! I promptly wore the skirt out to brunch with my husband, and felt so pretty in it that I decided to make more. My next one will be in a lightweight black twill, and then a pink denim one might happen after that, we'll see!