My next sewing adventure involved finally using up some pink stripey seersucker I've had in my stash for a while. I'm not usually a fan of seersucker, but a.) I had it, and b.) I thought it would be a great choice for a dress to kick around at home and sew in during the hotter months of the year. . .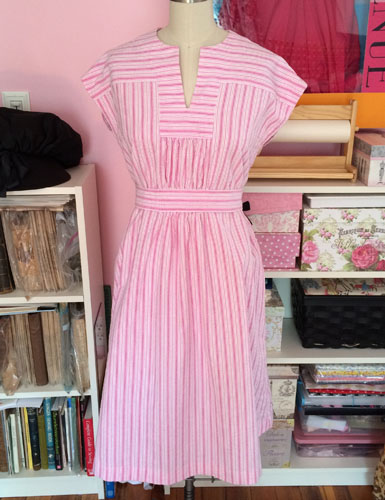 I love how this one turned out! It's wonderfully lightweight and comfortable, and also meets my criteria of being flexible in size, because the belt is only sewn on at the middle, and then ties in the back, drawing the dress in to fit whatever size I am at the moment. Perfect!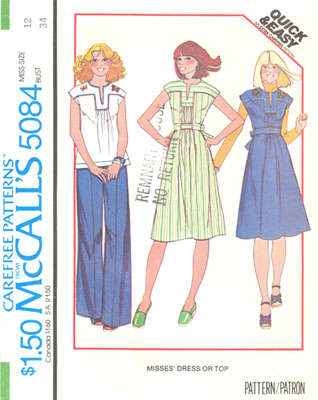 I used McCall's 5084, from 1976. I love 70s dress patterns! They are such fun, and so comfortable to wear. This pattern fit me
almost
straight out of the envelope, which is a rarity for me! I just needed to make a small adjustment at the back for my narrow back/shoulders.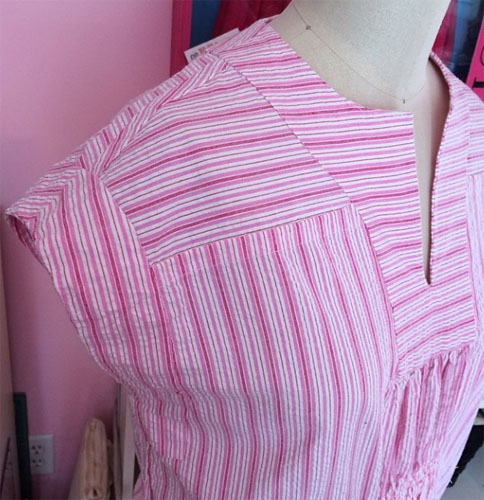 This is the dress turned inside out! I try to always finish my insides nicely these days, but I took extra time securely finishing every raw edge on this one so that it could get lots of wear and survive many trips through the washer and dryer.
This is definitely a pattern I will make up again! Also, with these last two 1970s dresses going so well, I feel like there may be many more 1970s dresses in my future! ;)