Today I went to a Sheepshearing Festival held at Gore Place, which is an early 19th century mansion in Waltham, MA. I wore my newly finished "Miette" cardigan. And by newly finished, what I mean is that this thing has been sitting in my knitting bag lacking only buttons for well over a month! So I used this event as the kick in the pants I needed to sit down and finish it. After all, I could hardly go to an event that was all about sheep and knitting without wearing one of my creations, right? ;)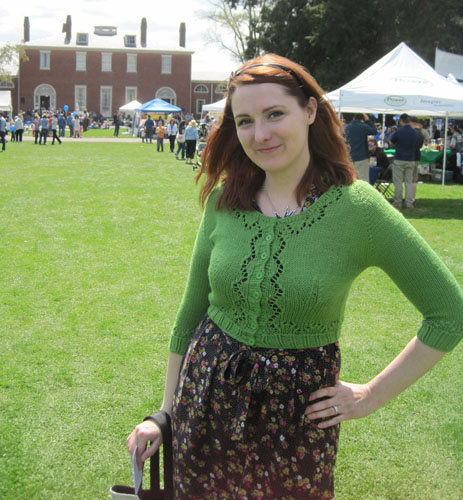 On the sewing table, I've got a big wearable craft project going on. . .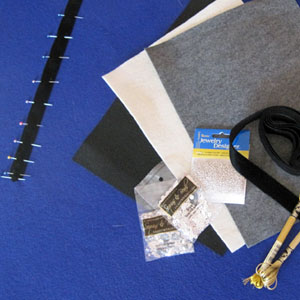 And that's all you get to see so far on that, since clearly, I am a tease! Rest-assured, it will be very silly and frivolous, and in fact, may only be worn the one time. . . But is worth every stitch going in to it because I'm having a ball with it, and more over, my Granny (who taught me to sew and got me going on loving to make wearable things in the first place) is having fun with it too and insisted on helping me with a little of the hand sewing. A project always increases enjoyment-wise when you have good company and good memories sewn right in!
Also soon to hit my sewing table is a dress I'm attempting to make in time for a wedding that is only two weeks away. . .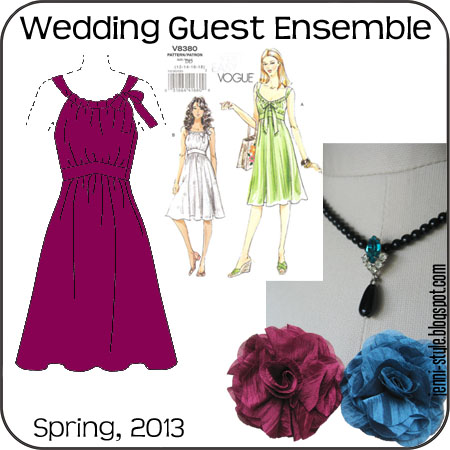 Since it involves silk chiffon and charmeuse, I am sure it will be more of a headache than it should be, but of course, I just
had
to have the slippery, tricky fabrics! I have at least chosen a design that should be fairly easy to fit: Vogue 8380, which has a raised waistline, and the neck gathers over a fabric tie. I hope to wear my hair up in some sort of vaguely mid-century twist of some sort, and adorn with the two little flowers, which were actually the inspiration for the color scheme of the ensemble. I found the necklace on Etsy, and hope it will tie in the teal-ish blue of the second flower. A black shrug will finish off the look since it's still chilly here in Massachusetts, especially at night, and this is an evening wedding. I originally had grand plans to knit the shrug in some lovely black mohair I have, but since I'm only about four rows into it, I'll be pulling something out of my closet and making do with that!
It's going to be a very busy few weeks in my sewing room, that is for sure!