On Friday we met some friends for dinner and hanging out for drinks afterwards. I wanted to be fancy, but not too dressy, so I went for nice dark jeans, a cute top, and fun accessories. . .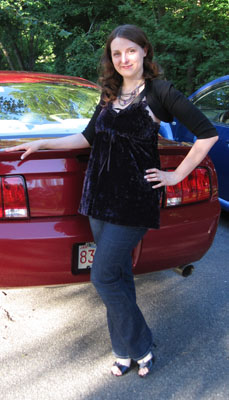 This outfit is all about cost efficiency, because I don't think I spent more than $15 for any piece of it! I'm a firm believer that fashion doesn't need to be absurdly expensive in order to be cute and fun. There will always be expensive designer pieces you'll
have to have
, but I like the idea of mixing these up with things I can find on sale or at cheaper shops. Basically, the item just has to be pretty and make me feel cute!
The jeans and purple velvet top were both Wal-Mart finds, the necklace was on sale at Kohl's, and the little shrug was a gift. The shoes are probably my favorite deal because I think I paid in the $5 range for them, and they are so cute! Black patent leather with purpley-silver sparkle stars. The reason for the low cost? They had these weird spiraly things hanging off the back - several inches long - with stars at the end. It looked really silly! So, I chopped them off, which left a loop at the back of the ankle. I used this loop to thread a ribbon through which added a super cute - and functional! - "something" to the shoe!