I spent Memorial Day weekend in Montréal, where I went for the purpose of the graduation of my nephew, but being a girl who loves clothes, I certainly found some time for shopping as well! For the most part, I went all up and down Rue Saint-Denis. I found that I absolutely love Montréal style, and wish I could find more of that locally!
By far, my favorite shop was Frivole, which is located at 4383 Rue Saint-Denis. It lured me in with a beautiful floral sundress in the window, and while it was chalk full of wonderful things, it was the sundress from the window that found a home in my wardrobe!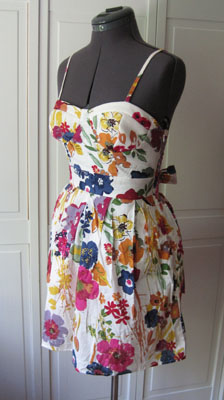 The dress is beautifully made, with lining all throughout, adjustable straps, and support enough that one can get away without a bra with this one. A perfect dress!
In addition to the sundress, I also brought home a whole page in my sketchbook full of little ideas I may integrate into future things I make for myself. All in all, a beautiful and inspiring city for a fashion-obsessed girl like me!