I am very pleased to announce the arrival of my bundle of joy:
At 12.4 lbs and 11" tall, this beauty arrived early on 6/7/14.
Yes, I'm a dork! ;)
This is my birthday present from my husband! My birthday isn't actually until the 29th, but I was given it early because I was losing my mind about my buttonhole dilemma you may have previously read about. I started researching possible solutions to my buttonhole problems which didn't involve buying another sewing machine since I have enough of those, and it seemed wasteful to buy a whole machine with the sole purpose of buttonholes! (And also, not having to hand sew them, which I'm willing to do for my historic costumes, but not so much for all these modern things I've been making!) But then, getting any of my existing machines serviced/repaired would cost as much as buying a new machine. Then it dawned on me that if I hunted out a sewing/embroidery combo machine, not only would I be able to make buttonholes, but I'd also be able to embroider
all the things
, which means it wouldn't feel so wasteful to buy yet another machine.
I researched all kinds of embroidery machines, and finally settled on the Brother SE400. It's affordable and has ridiculously great reviews, and I could even get it on Amazon with free shipping. I put it in my cart so I could think about it, and my sneaky husband went and ordered it for me! *feels loved*
Upon receipt of the machine, the first thing I did was test a buttonhole. . . And, it was a total success!!!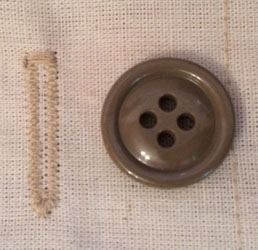 I immediately pulled out one of my UFO's that wanted only buttonholes and zipped them off in no time. This is my first really modern, computerized machine, and I never thought I'd say this, but it's amazing! The buttonholes literally make themselves. Put the button in the presser foot, lower the buttonhole guide, choose what style of button you want, and push the green button. Then sip your tea while you watch your buttonhole appear before your eyes! (Though when making a non-test buttonhole, I keep a hand on the fabric just in case it starts to slip. . . But there hasn't been a problem yet!)
Over the weekend, I tried out using it as a general-purpose sewing machine, and made a second Miette skirt: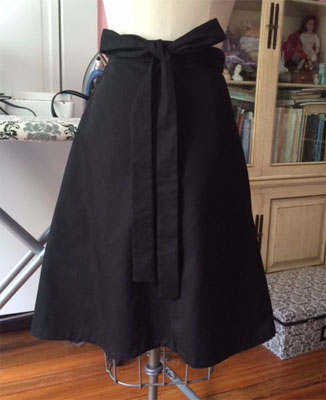 This one is in black Twill ("Hampton" Twill by Robert Kaufman). It's 58" wide, and I bought 2 yards, and have plenty left over. Again, I ignored the directions to piece the waistband out of lots of little lengths of fabric, and instead made the waistband all in one piece, and then one piece for each tie. I used my new machine to make a buttonhole to pass the tie end through. (Side note, this is the longest buttonhole my machine is capable of):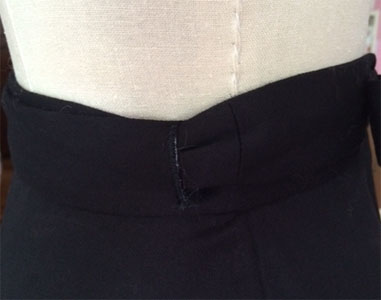 The only thing I find isn't perfect about this new machine is that I don't have total control over the position of the needle (as in, left to right, not up or down). This means I can't get the needle far enough over to easily make 1/4" seams, because the point that would be 1/4" away from the needle is under the presser foot. This is kind of disappointing, especially for a machine that is supposedly able to be used for quilting, and 1/4" is the go-to seam size for quilting. My old Husqvarna Viking breathed a sigh of relief when she heard me whine about that, because now she has a reason to stay! ;)
I haven't tried out the embroidery feature of the machine yet because I didn't realize there were other things I need for that (stabilizer, special thread for machine embroidery) so there has been some ordering and waiting around for supplies to arrive. I have everything I need now, but of course, now I've got a ton of stuff going on and don't have time to mess around with it!
I was shocked at how costly the embroidery thread can be. I guess it's not all that much more than a spool of sewing thread, but I'm used to the less-than-$1 cost of floss for hand embroidery! I went hunting for a cost-efficient option, and read good things about Embroidex, so went with
this 48 spool set from Amazon
: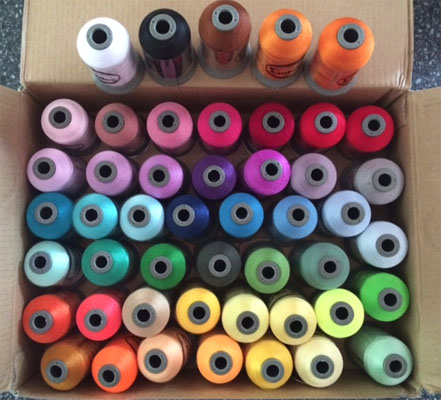 I feel like there are plenty of options here for me to play around with! I also have plenty of ideas of things to embroidery. In fact, I'm almost a little fearful that I should have chosen a machine with a larger field for embroidery. This machine has a max of 4" x 4" (which I hear is actually 3.5" x 3.5" since you can't go right up to the edge of the hoop), and I thought it wouldn't be worth it to spend hundreds of dollars more for a couple of extra inches. . . Hope I made the right decision! Also, depending on how much I end up enjoying this machine embroidery thing, there's a distinct possibility I may end up investing in the software that allows you to create your own designs!