Over the weekend, my husband and I celebrated ten years of being married! We threw a party at the place we originally got married at, which was pretty much a second wedding reception, minus gifts and bridal attire. . . However, I could not miss the chance to make something special to wear! I decided to run with the inspiration of "swans" because that's sort of the theme of the restaurant, and was also a sort-of theme of our reception too (featured in things like little swans as favors). This is what I came up with: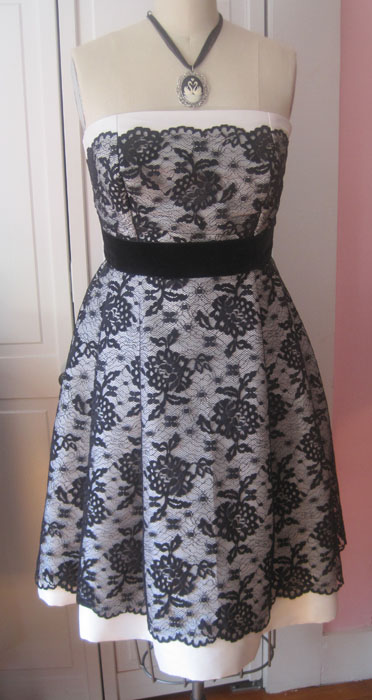 And let me tell you, I am
ridiculously
happy with it! I think it might be one of my absolute favorite things I've ever made, in fact. :)
My sketch, before-hand: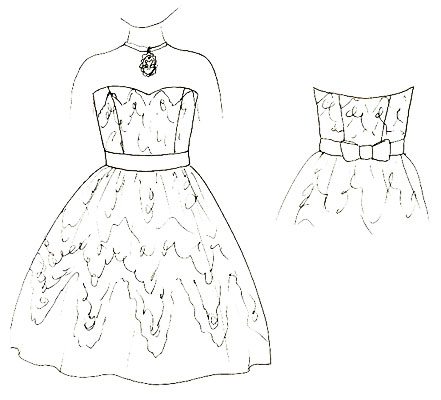 At this point, I knew I wanted black lace over white, and a black velvet band at the waist with bow in the back, but hadn't gone fabric shopping. (I did have the black velvet ribbon in the stash though; I had bought many yards of it to trim an 1860s ball gown which I haven't yet felt inspired to do!)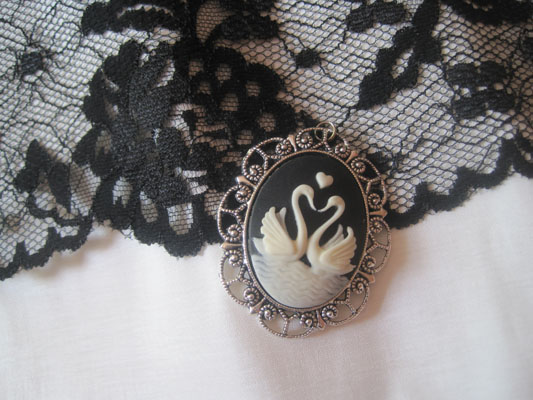 My husband was so awesome and drove me into Boston to two fabric shops until I got what I needed! I didn't find the pointy lace I was looking for, but I like this gently scalloped lace as well! The white fabric is some sort of synthetic taffeta-ish fabric, and it's white but with this neat sheen, which made me think of moonlight reflecting on a lake. Perfect for a swan-inspired dress! And the cameo was something I dreamed up in my head, went hunting for, and found on eBay. How lucky was that?!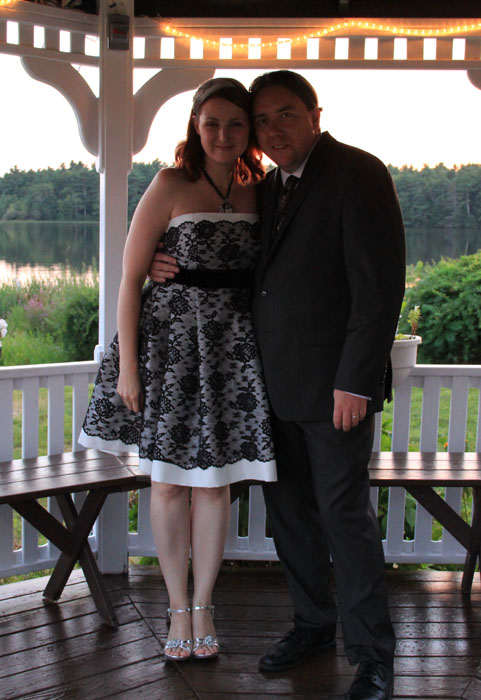 My Mom brought her nice camera and snapped a few pictures of us on the very same gazebo where we had wedding pictures taken. We got there just in time to get pictures before the sunset, so it worked out perfectly!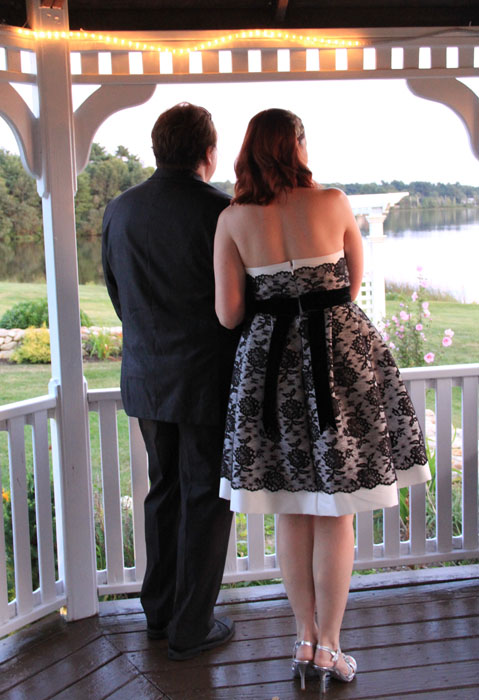 I straight up
love
the way the bow at the back turned out! It's really a mock bow, sewn on each side of the zipper, with the idea that, once the zipper was up, you wouldn't be able to tell. However, I had a little last-minute drama with the zipper! I checked the zipper before I put it in the dress, and so knew it worked fine. . . But when I went to get zipped in the dress? It would
not
go up! It would only get so far and just stick. It turns out the fancy invisible zipper foot I bought for my machine doesn't work right, and instead of perfectly sewing the zipper in like it claims it will, it actually does a crappier job than I do with just an ordinary zipper foot! Precisely what it did was sew too close to the teeth in some parts, which made it impossible for the zipper to go up. (This foot has a channel in it that you slide the teeth in to, which is supposed to unroll the edge of the zipper and stitch the perfect distance away, but clearly that did not work!) I ended up just ripping some stitches and quickly hand-basting the zipper back in place, so that I could wear the dress, and that's the bit of white you see at the back. This is going to drive me nuts, so I will for sure be going back and re-setting in the zipper properly. . .
Without
the evil zipper foot, thank you very much!
Zipper crisis aside, the dress was perfect, the night was super fun, and we couldn't be happier. Yay! :D