I've decided to give the 2015 OAL a shot! If you're unfamiliar with the concept, you can read all about it
here
, but to sum it up, you basically have two months to sew a thing and knit another thing, and in the end, you have an outfit, and as a bonus, a chance to win a prize.
I already had the pattern in my stash, and have been really wanting to try out one of McCall's patterns with the sizing by bust cup built in, so I just had to convince myself that I should set aside my current knitting project and start Vianne (or at least, something that can be finished in the two month time period; my current project is Kate Davies'
Foxglove
, which is not going to happen in two months - especially when factoring in full time work, school, and life in general!) I'm not sold on Vianne as is, because from the front, it's a knock out, but then the back? I'm not especially in love with the look of the mesh, but more importantly, I don't like the sagging-in-back detail. I read on the OAL2015 Ravelry thread that she's considering publishing info on how to do away with the mesh, but I'm not sure how soon that will take place. . . If it's quite soon, that would sell me on Vianne, because again, from the front, it's gorgeous!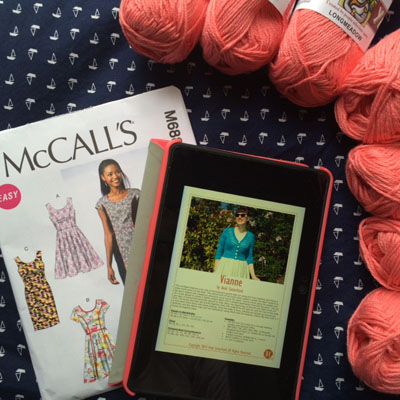 I've selected some navy poplin with a white sailboat print, and I'm currently thinking of combining views of the pattern so that I end up with the flared skirt, the non-cut-out bodice back, and the sleeve option. . . Well, that one is up in the air! I initially thought sleeveless, but then I rather like the cap sleeves of view D.
For the cardigan, I wanted to make something that was appropriate for warmer weather. I've had coral on the brain lately so I knew that was the color I wanted, and that I wanted to try working with cotton or linen. I also needed it to be the right weight of yarn, and to be affordable. The yarn I found that fit all my needs is Valley Yarns "Londmeadow," in color #08. And again, for the pattern, I'm considering Vianne, but it will depend on what I can do about altering the back. . . I'll also want to deviate from the pattern a bit more by shortening the sleeves, to keep with my plan for a warmer-weather cardigan. So here's what PhotoShop and I came up with: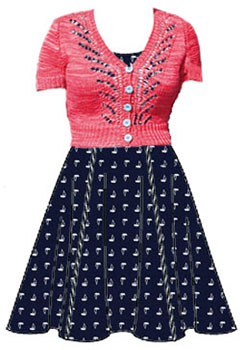 This plan makes me
really happy
! I can definitely see this being an outfit I will get a ton of wear out of, especially since I have shoes this exact color already. And apparently, I accidentally matched my Kindle cover as well. . .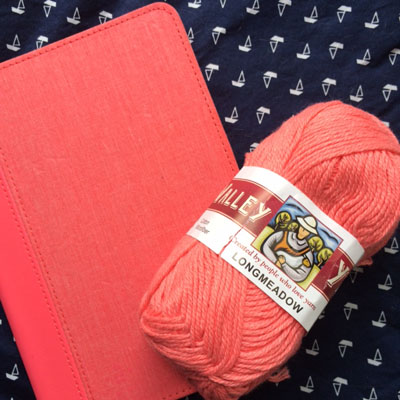 As I said, I have coral on the brain right now! ;)