Well, I know I've been away for a while, but I'm sure you'll forgive me when you read this post which is all about SHOES! Yay, shoes! ;)
I am going on vacation for a few days next month, and anticipate doing a ton of walking while wearing super cute sundresses. This means I need shoes that are ridiculously comfortable. They also need to not be white so that I won't be stressing out about getting them totally dirty.
Here are a few of my favorite non-formal-occasion summery shoes:
Of these, here are the shoes that fit the above criteria:
So you see, I had NO CHOICE but to go shoe shopping!!! ;)
I tried my local DSW but they had only a tiny portion of the selection online, and pretty much nothing in my size. My online DSW shopping today went much better! I set out looking for a platform/wedge sandal that was black with a natural-colored bottom (cork or straw). It needed to be very secure on the foot, so with a bit that goes over the foot, as well as an ankle strap. Nothing super high. I found these: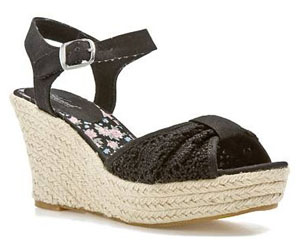 They are "Superb" by Wanted. They meet my criteria perfectly! I am crossing my fingers that they are super comfortable!
These were only $30, and since I had a coupon that gave me $20 off a purchase of $50+, I just HAD to look at even MORE shoes!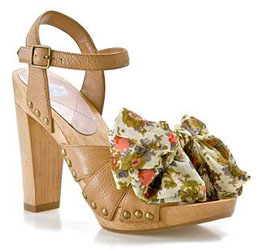 These jumped into my bag! They are "Eve" by Miss America. I doubt they are the "wear all day long!" type of shoe, but I fell in love with them at the store. They are so cute, and I realized while fondling the display pair that the bows can totally be switched out! LOVE IT! I have a watch where you can switch out the bands as they are fabric. I pictured getting to match the watch to the shoes to the outfit and my brain exploded! So I bought the shoes. ;)
And I got my $20 off, plus I apparently had a $5 rewards certificate, plus I got free shipping. So, a good deal! And, I think this is enough points to get a $10 rewards certificate. I <3 DSW!!!
Next post topic: Shoe storage! LOL!