I don't think I've mentioned this here, but I am a serious
Craftsy
fan! I'm a very visual learner, but live in an area where I can't always get access to a teacher for the things I want to learn, so Craftsy has been a dream come true. If you haven't heard of it, it's basically a web site that offers classes in a wide variety of crafty pursuits. Each class consists of a series of videos that you have lifetime access to once you've purchased, and can watch any time, as many times as you need to. Additionally, you can ask questions and interact with the teacher of the class, as well as fellow students. There's also a gallery feature, where you can share pictures of your finished work, and share comments on other students' projects. Basically, it's an awesome resource! I've taken quite a few classes there, and I've been at least satisfied, if not completely impressed, with all of them. Go check it out!
Anyhow. . . Craftsy's classes on weaving are what gave me the courage to purchase a rigid heddle loom, even though I didn't know of any local weaving teachers. I started with the
Rigid Heddle Weaving
class, and made the scarf I posted about a while back, and just recently, I did the second half the of the class, and made these tea/dish towels: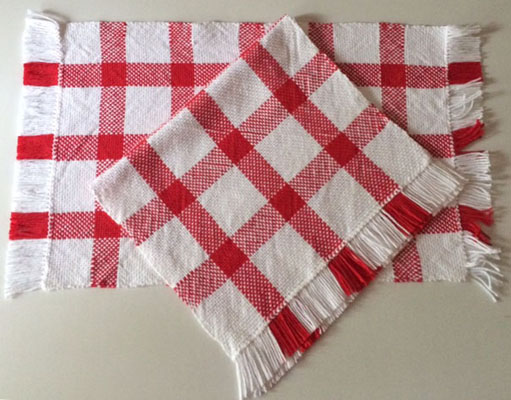 If you're curious about the process, here are some progress shot of my first towels. . .
First, I wound the warp. The Kromski Harp loom has this awesome feature where you just flip the loom over, insert pegs into the holes, and boom! You have a warping board! Such a cool feature!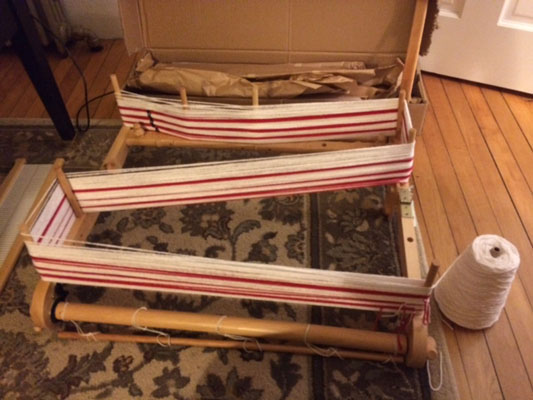 Next, all that yarn goes through the slots in the heddle and over the back rod. I like to call this part "wrangling the yarn spaghetti."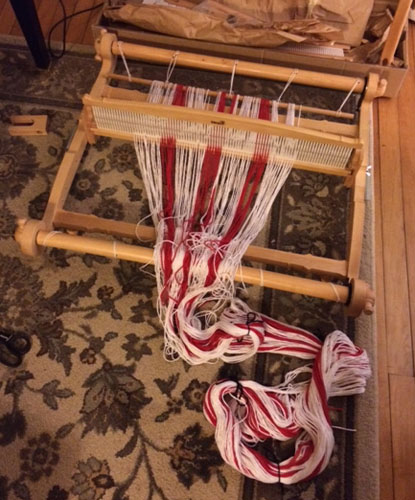 Then comes this process of rolling the yarn onto the back beam, all the while creating a nice tension. Finally, you tie the ends onto the front rod, and you are ready to begin weaving!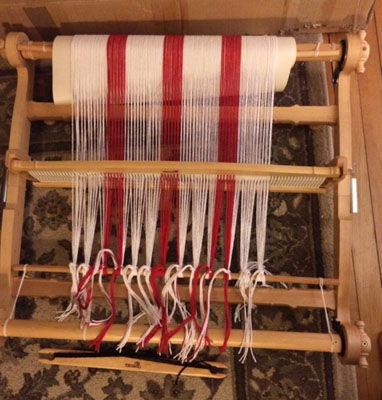 When I knit the scarf, I finished the ends by doing a knotted fridge after the weaving was done. This time, I got to try a new technique for finishing the ends. This is hemstitching, and it's similar to the buttonhole stitch in sewing/embroidering. When you've used this method, after the weaving is done, you pull out your header (that's the black yarn you see in the picture; it's temporary rows of weaving you do at the start to even out the warp, which gets drawn into bunches when it is knotted to the front rod) and just cut your fringe to the desired length, and that's it! It makes a very clean finish, and I think it's something I'll be using frequently!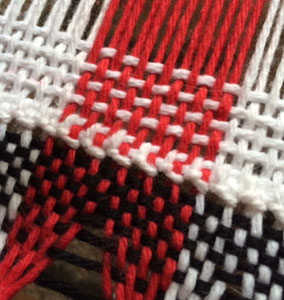 From then on, it's just about going back and forth, and moving the heddle up and down as you go. Easy as pie, and very rhythmic/relaxing!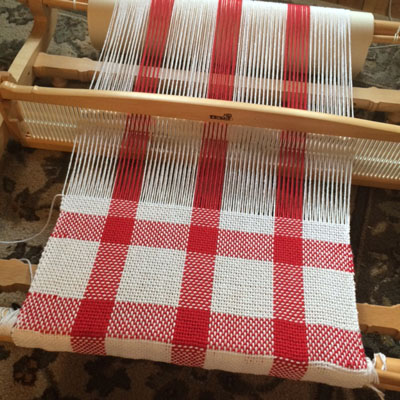 The instructions had you warp the loom with enough yarn to make two towels, so when I got to the end of the first one, I did the hemstitch, left enough space for the fringe on each towel, and started right in on the next towel.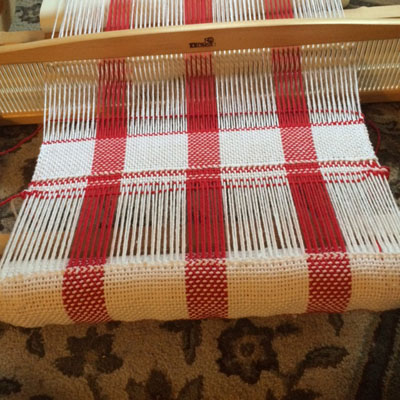 I was so happy with the way these towels turned out that I decided to make another pair! This pair will be for my Granny. She just recently changed her kitchen to a white and blue color palette, so I'm using some blue & white "twist" yarn (Sugar 'n Cream, by Lily) as the accent color. (The black yarn is just temporarily holding all the yarn in place, until I'm ready to dress the loom with it).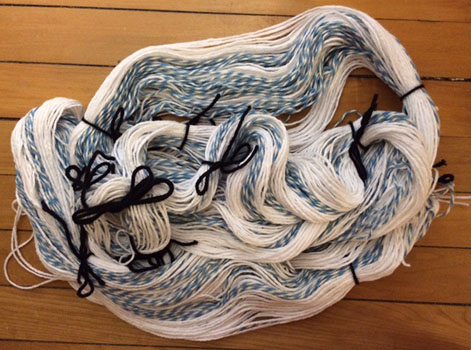 As much fun as I've been having with the rigid heddle loom, I'd also been itching to see what using a floor loom would be like. Floor looms are very expensive, and take up more space than I have available in my sewing room right now, so it seemed like it wouldn't be a possibility in the near future. However, a few weeks back, my good friend took me with her on an adventure to
Strawberry Banke
, in Portsmouth, NH. If you haven't been to Strawberry Banke, I highly recommend it! It's a museum made up of some really amazing historic houses from the 17th through early 20th century. Some of the houses are furnished true to the period, and others have themed exhibits or craft demonstrations going on.
Without a doubt, my favorite house was the Cotton Tenant House. This is because I came through the door and discovered a room that was full of floor looms! On one of them, a beautiful, compliated pattern was being worked in shades of blue. This was the demo loom, and I got to see it being worked. But, the rest of the looms in the room? They were set up for anyone to sit down and try out! So of course, I had a go!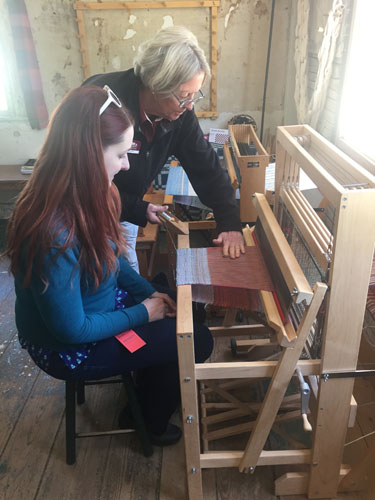 I
loved
working with the floor loom! Everything about it appealed to me: the feel of it, the sounds, the beautiful fabric it was creating. . . I just plain loved it! Weaving on a rigid heddle loom is a blast, but I could see that it would be much easier to get into a rhythm with a floor loom, and of course, the variety of designs you can create is pretty much infinite! Also, boat shuttles are amazing, and I definitely want one now!
Here is my friend, Sarah, trying out another loom. . .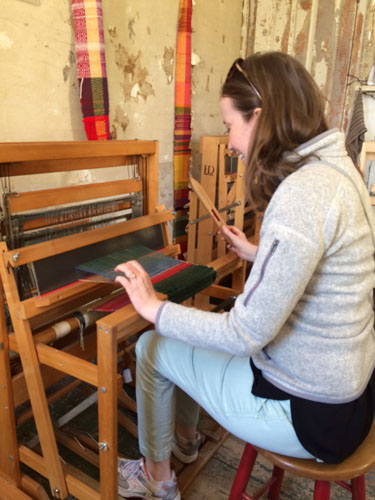 At the gift shop, you can purchase things made with the demonstration fabrics woven by the expert weavers at Strawberry Banke. I purchased a case for my sunglasses, as well as this little bag, which has turned out to be the perfect bag to use for knitting while commuting around on the train and shuttle bus!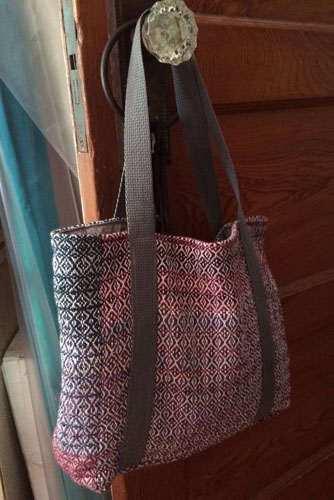 A few weeks later, I was back in Portsmouth again for a costumed tea in one of their historic buildings. My husband tagged along for this trip, and this time, even he tried the weaving!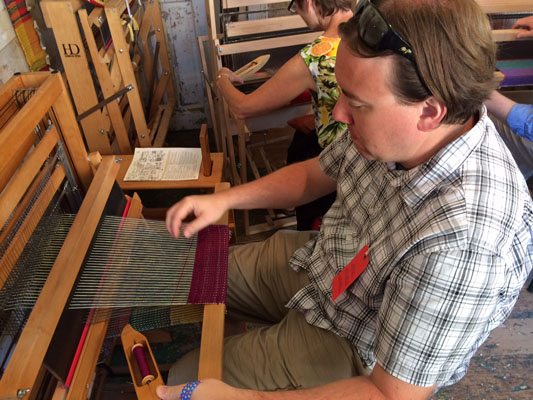 I don't think trying the loom caused Glenn to become as obsessed as me, but I am always appreciative when he takes an interest in any of my textile-related obsessions! ;)