I've been offered/given free fabric before, and generally, it tends to be quilting cottons, home dec fabrics, and other random stuff like that. It's never dress making fabrics. But the other day, I was gifted with a little fabric jackpot!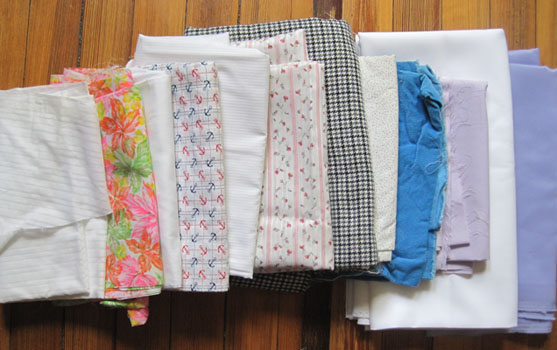 I don't know if it looks as amazing in this picture as it does in real life, but rest assured, these are all fabrics for making clothing, not just draperies and quilts! And, at least some, if not all, are vintage, probably 1960s-ish. All the fabrics to the left of the houndstooth are semi-sheer and would make lovely summery things (or historic costume items, in the case of the white-on-white patterned fabrics; although, sadly, there is not enough of any one fabric to make an entire dress, which would have been awesome!) Then of course, that houndstooth, which is really classic and pretty and I can totally make something cute out of it. The teal is corduroy and I was thinking maybe of a Colette Beignet skirt from that. . . And the last three are probably poly and I'm not sure what I'll do with those. The lilac colored fabric might be the right shade I've been looking for to trim a doll outfit I have in mind, however. . .
Anyhow. Yay for free fabric that I will totally use the heck out of!
In other news, I didn't make that dress for that wedding after all. I ended up finding a perfect dress that I loved at a consignment shop and was gifted it by my Granny as a very early birthday present. It's a lovely moss green that has a "shot" look to it, and I paired it with a black velvet bolero and evening bag, and silver/rhinestone accents, and topped it off with a mini hat with black dotted veiling and a rhinestone detail. Sadly, I didn't get any good pictures in natural light! This will have to suffice: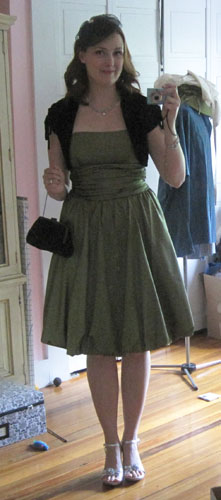 But I still love my previous idea, and have two more weddings to attend this year, so I'll be making the dress for one of those weddings intead!
And finally, stay tuned, because my mystery project is almost ready to be revealed! I'm putting the finishing touches on it today, and wearing it tomorrow. I am so excited about how this project has turned out, and can't wait to post about it!