Hello!
Long time, no see! Bad Jenni!
I started this blog thinking I was going to be making all kinds of cute dresses, and having all kinds of dressing-up and fashion/beauty babbling fun. . . And then it never seemed to happen. Somehow, I never get around to making cute clothes for everyday because I'm too busy making dolls and historic costumes. In fact, the more I thought about it, the more I realized how rare it is that I sew something for myself that isn't a historic costume! That, however, hasn't stopped me from acquiring quite a stash of cute fabrics. Apparently, in my imagination, I was making all kinds of things for myself for "every day." That's fun, but not as fun as actually making and getting to wear these things!
So, this is the year that I set aside some of my sewing time to make some of the cute things I've been dreaming of/stock-piling fabrics for. And especially this spring/summer, since warm weather clothing is my favorite!
One of the issues I'm facing just now is that I'm in the process of a little bit of weight loss. This makes me want to hold off on sewing pretty things for myself, because how sad would it be to only get to wear things for a couple of months, and then have them be too big? But I don't want to hold off on sewing, either, because that's not fun! So, I've been looking for designs that offer a little room for a slight size change. I was surprised to find quite a few options!
The first of what I hope will be many sewing projects this spring/summer: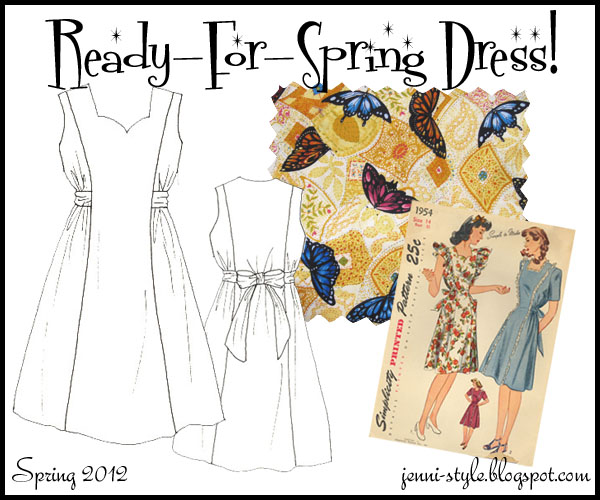 Well, I'm ready for spring, even if the weather isn't cooperating! Some folks are calling this "warm," but to me, 40 degrees is not "warm." And, it is not "spring" when the weather man is still telling me there could be snow! So for now, you only get pictures on the dress form!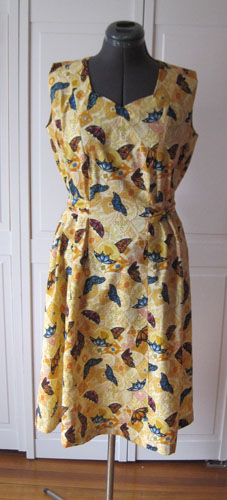 &nbsp&nbsp&nbsp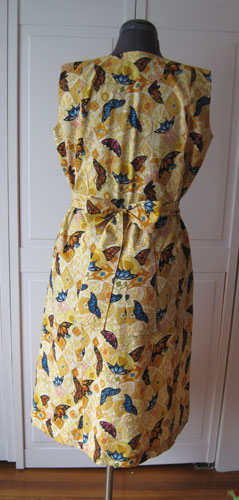 This pattern was technically a maternity pattern, but the pieces didn't seem too ridiculously huge, and I've seen other 1940s patterns that were not maternity with almost this exact same look. So I gave it a shot, using some incredibly obnoxious, loud, tacky cotton I've had in my stash for probably a decade. I think it turned out all right! It doesn't look like a maternity dress on, IMO, but the fact that you control the fit with the ties makes it super comfortable. I think this will be a great dress for wearing around the house on the super hot days I am just hoping are in my future! ;)